Orthodontics with different technics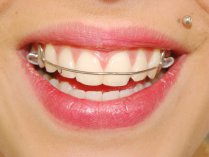 ORTHODONTICS WITH REMOVABLE OR FIXED DEVICES OR WITH TRANSPARENT DENTAL PLATES WITH THE SWISSALIGNERSYSTEM.
We practice orthodontics with removable appliances, which can, at a lower cost, set many simple cases of dental misalignment.
The Swissaligner system can treat most cases with clear resin aligners.
These aligners are less invasiv and easier to maintain buccal hygiene.