Dentures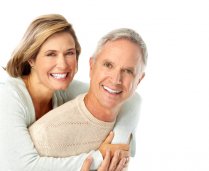 Dentures, partials or totals, can be uncomfortable the first time, and up to 3-4 weeks after installation.
This is normal and will improve over time.
Dentures can damage the gums, which will require touching up or adjusting the edges.
They can also cause discomfort in contact with the tongue and can interfere with the speech.
To get used to them the faster, one should talk to himself, read aloud and even talk to plants...
The best thing is to wear them all the time and sleep with, so their integration will be done, and do not take them out except for cleaning.
After a few months, dentures will need to be rehabilitated if the gums were not yet sufficiently healed the day of installation.
Cleaning dentures is made ​​with a specific wide-tooth brush to use with toothpaste or soap.
It is not efficient enough to soak the denture with cleaning tablets, and it is anyway not recommended to soak for several hours because of the possible bacterial growth.